We believe that all Conquest games are important, and deserving of being preserved. This requires a system with tremendous flexibility in availability and reliability. It must be available 24/7, and be at home on mobile as well as desktop environments.
Ladies and Gentlemen, I am pleased to announce the release of the Conquest Eternal Game Recorder. It is a tool for everyone. Ii can be used to track results between friends, to record campaign results, to providing a simple way to manage more complex tournament results.
It can be found here: https://record.conquesteternal.com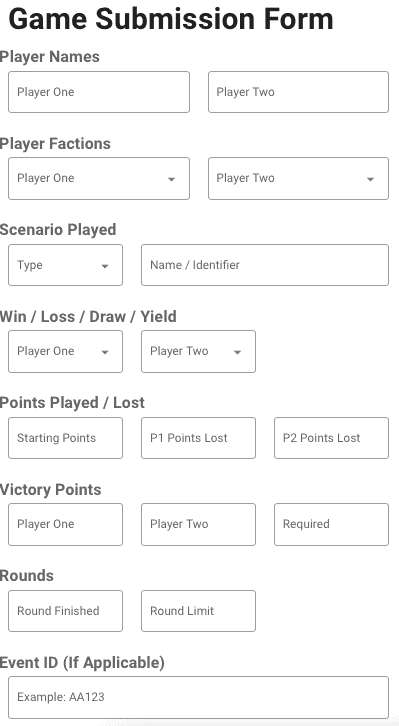 As you can see from the above image, a number of details are collected.
Player names/handles of course
Which faction each player was playing
What scenario was played and what type of scenario it was (Official, Custom, etc)
Who won, and if the loser yielded
How many point the game was, and (optionally) how many points were lost
Victory Points earned and required
How many rounds were played
And lastly, a place to enter an Event ID if you participating in an event. This would be communicated to you by the event organizer.
All of this information will be made publicly available as results are collected and reports are created.