Milestone 2 has now been and gone, and this collection of models is beginning to look like an army now. The target for this month was to achieve the following: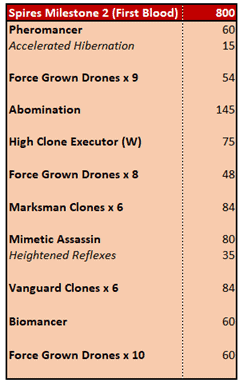 I'm delighted to say that not only did I manage to complete the above, but I actually went one better and did all 12 Marksmen clones and all 12 Vanguard clones. This puts me nicely ahead for the next milestone.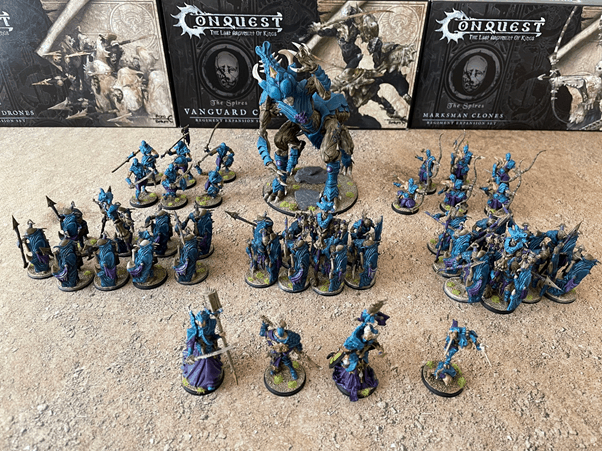 We are now at 800 points, which in my opinion is probably the upper limit for First Blood. Here is a brief rundown of the units we've added in this Milestone:
Biomancer
This character brings yet more healing to the force with his Biotic Renewal draw event. When combined with the Pheromancers Accelerated Hibernation I fully expect to be able to reliably replenish casualties I suffer. He is poor in combat, so will need to be protected from enemy combat troops and characters.
Mimetic Assassin
This character is incredibly good in First Blood. Characters are normally quite vulnerable as they are not protected in a regiment (like in Last Argument). The Assassin however has an Evade stat of 3, which we are boosting by +2 with the Heightened Reflexes mutation, meaning that ANY wound he takes from Clash, duelling, direct damage magic or shooting will be saved on a 5 or less. Cleave is irrelevant to him! He'll just dodge the massive axes! He has a decent number of attacks as well and will go first in duels thanks to his quicksilver strike special rule. His only slight weakness is a lack of Cleave, but he'll certainly pull his weight in combat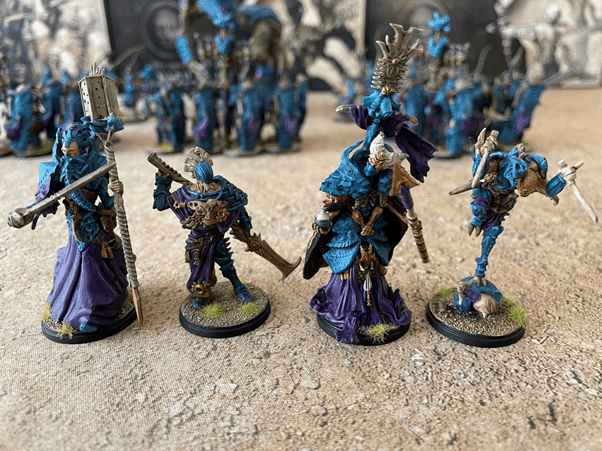 Vanguard Clones
These are elite close combat troops. Each Clone has 2 attacks and a decent defence score, backed by evade 2 as well. Much like the assassin, they lack cleave, but sheer weight of attacks will tell against most enemy regiments. They're also quite fast with a movement of 6 so can really to where they are needed.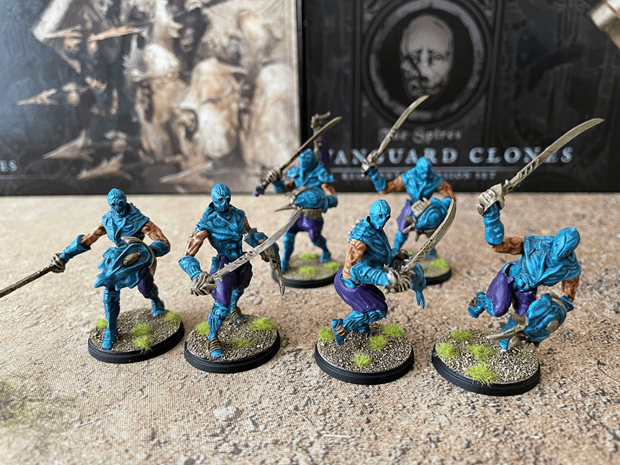 Marksmen Clones
These are elite ranged troops. They have everything you need to smash enemies at a distance with lots of shots, a long range and the wonder arcing fire special rule, letting them use a friendly regiment to draw line of sight. They are only lightly armoured so careful positioning is needed to keep them alive, though the healing abilities of the Pheromancer and Biomancer will keep them combat effective.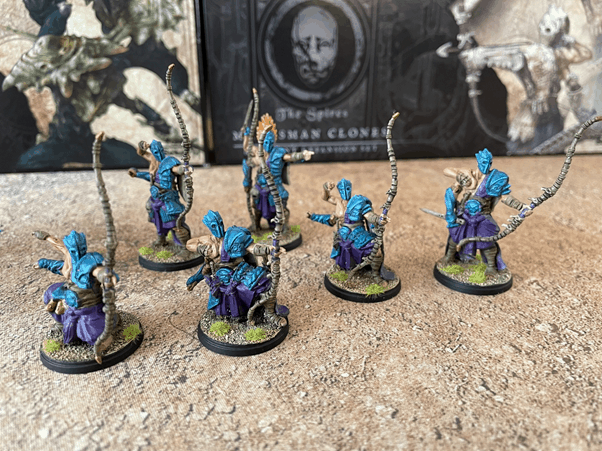 We now begin Milestone 3, and this is going to be an interesting month as we convert the above First Blood Skirmish force into a 1250 point Last Argument of Kings force.
The obvious things changing will be the size of the regiments. Infantry, cavalry and Brute regiments all need to have a minimum of 3 stands of troops (a stand is 4 infantry models, or a single Brute/Cavalry model). Right now, all of the units apart from the Abomination are under this minimum threshold, so we need to bulk out what is already there. We will expand both Clone regiments to the minimum of 3 stands. We will also need to increase the Force Grown Drone numbers to make up for their below average individual stats, so I'm going to take all three of the drone regiments up to 4 stands worth of miniatures with 16 drones in each unit.
By the end of the next milestone (11th August if I stay on target!) The army will look like this:
This means that I need to add the following to the force: 6 x Marksmen Clones, 6 x Vanguard clones & 21 Force Grown Drones which should be perfectly achievable in a month.
This will give me 3 regiments of drones, each with a character embedded in them, and each fulfilling a different battlefield role. The assassins regiment is tasked with spreading decay into enemy regiments, whilst the biomancers regiment is simply a pool of wounds to be spread around the other regiments with the harvest essence ability. The Pheromancers regiment is purely there to keep him alive and healing.
The damage dealers will be the Abomination and the two Clone regiments. They are proper elite units that can go head to head with almost anything else in the game.
Stay tuned to see if I manage to get the next batch painted up!!!