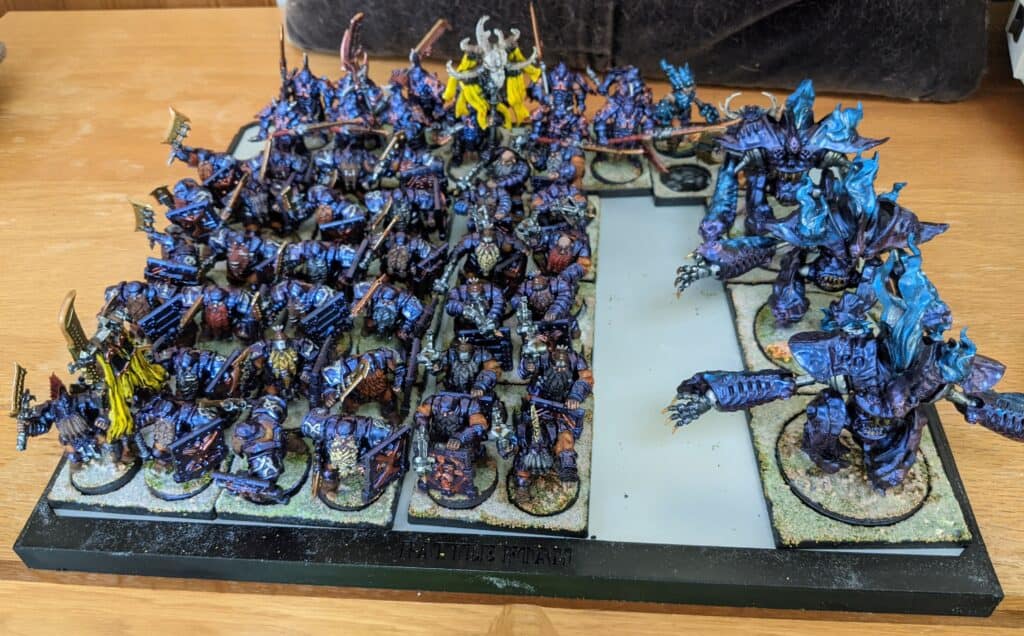 Greetings my fellow Path travelers! The last two months have been incredibly busy but I am still maintaining a good pace with getting the Dweghom of Grel'Hof ready for battle. June saw the completion of my Milestone 2 and part of Milestone 3 by accident. When making my First Blood and Last Argument lists I did not realize that I had included my Milestone 3 Dragonslayers in my Milestone 2 First Blood list. So instead of being sensible and just painting what was called for I went ahead and did the whole regiment! Then do to various delays I put off this article until I had also finished the rest of Milestone 3 as well. Given that this will be the Milestone 2 and 3 update combined.
Now my list stands at a Hold Raegh accompanied by 24 Hold Warriors with a Leader and Standard Bearer and 12 Dragonslayers with a Leader and Standard Bearer all supported by a Tempered Sorcerer leading 12 Hold Ballistae with a Leader, 12 Fireforged with a Leader, and 3 fearsome Inferno Automata. Now lets do a breakdown of what we'll be doing with this army.
=== The Last Argument of Kings ===
Dweghom – 800/800
Grel'hof
Hold Raegh [80]: Select as Warlord
– Hold Warriors (6) [260]: Standard Bearer
Tempered Sorcerer [95]: Fireball
– Hold Ballistae (3) [165]: Leader
– Inferno Automata (3) [200]
Characters: 2
Light Regiments: 2
Medium Regiments: 1
Hold Raegh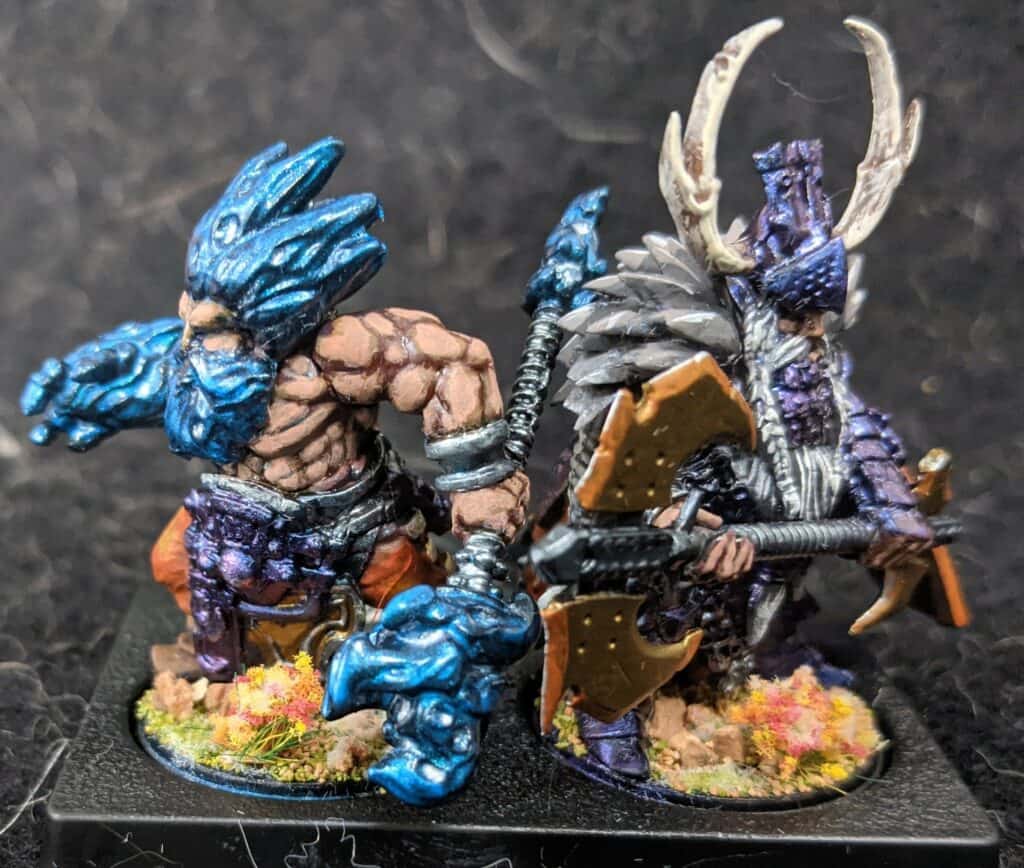 Quite a few people I know really love to tool this character up to make him a regiment annihilating monster. Trust me that I can definitely see the appeal but I prefer to run him with minimal upgrades for a very simple reason: the Raegh does not need the help. At Clash 4 with 6 Cleave 1 attacks he is already plenty dangerous and his high resolve makes his regiment virtually immovable. Why spend the extra points on making him deadlier when I can just bring along even more Dweghom?
Hold Warriors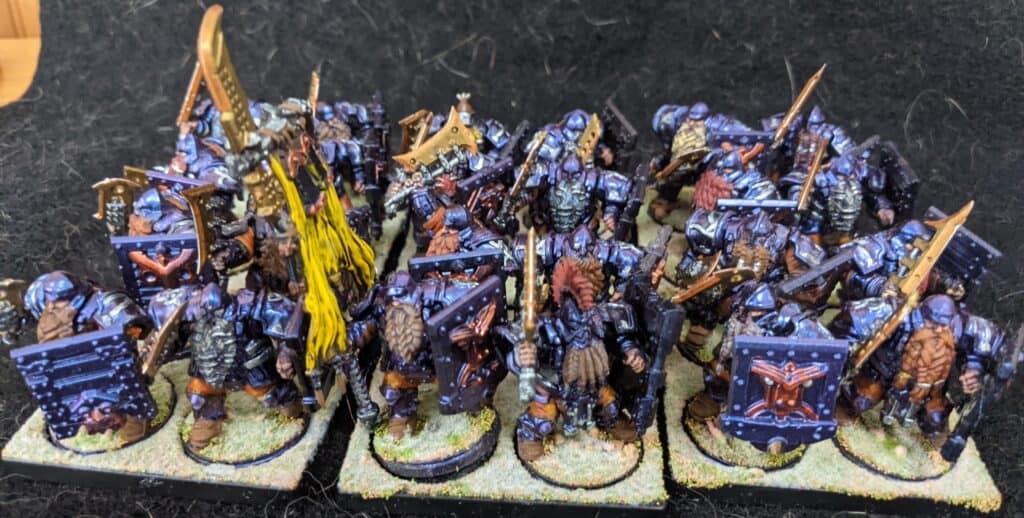 What is a rank and flank battleline without a solid shieldwall to anchor it? Raw stats wise Hold Warriors are not much to look at but they makeup for it with dependability. Solid Defense paired with a character's high Resolve makes it so they can grind their opponent into dust.
Dragonslayers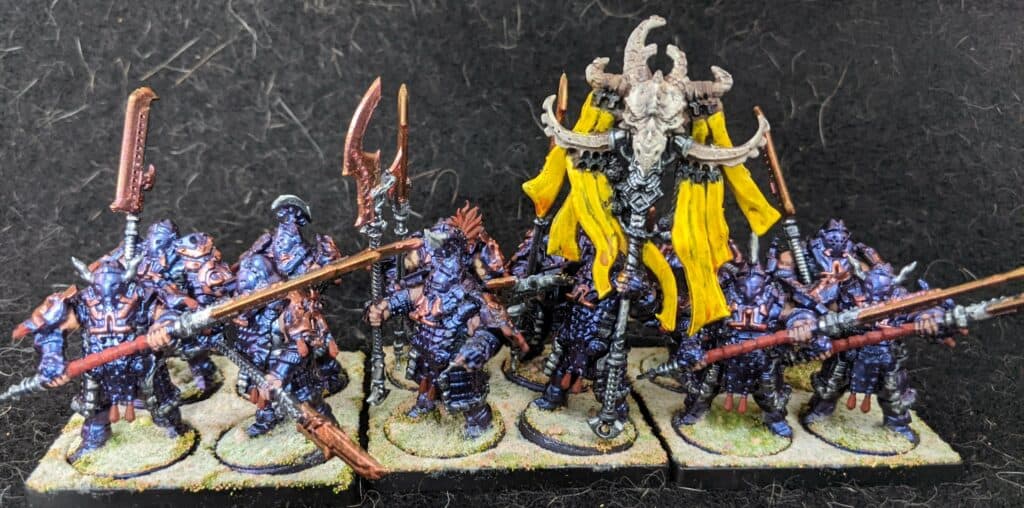 When you want any living thing sliced apart though that's where Dragonslayers excel. Abomination rampaging along the lines? Dragonslayers will take care of it. The main difficulty with these guys is that they are not very fast and are Heavy infantry. So while they can and will kill anything on the battlefield they simply cannot be everywhere at once. This is why it is better to give them a specific mission or target to focus on. Destroying the right target at the right time will often time be the difference between victory and defeat. A tired adage admittedly but still accurate.
Tempered Sorcerer
Now we come to the most infamous and most popular unit in the Dweghom roster. Other's have written more extensively and exhaustively about the terror this character inspires. I personally have had the most luck with just giving him a Fireball and sending him off to battle with either Hold Ballistae or Fireforged so that he can Volley and set people on fire throughout the game. Again I like to keep my character's cheap so that I can bring more soldiers to the field.
Hold Ballistae

Like the Hold Warriors, Ballistae are a solid reliable feature of Dweghom warhosts and for good reason. They are decent shots but are shockingly durable. With a range of 24" and Defense 3 from the front these Light infantry honestly feel more like a Medium or Heavy in practice.
Fireforged

These fiery lads fit a very interesting role in the Dweghom roster in that they are quite literal tanks in the proper military sense. Heavily armored so that they can hold the line or break through while armed with anti-armor cannons makes these a priority target for any enemy. Given their high armor and ranged attack that also makes them a perfect bodyguard for the Sorcerer. They are not melee specialists but they have decent Clash while their high Defense makes them very difficult to shift out of combat. In either the next Milestone or the one after they'll be accompanied by a Flamecaster to make their short range firepower significantly more threatening.
Inferno Automata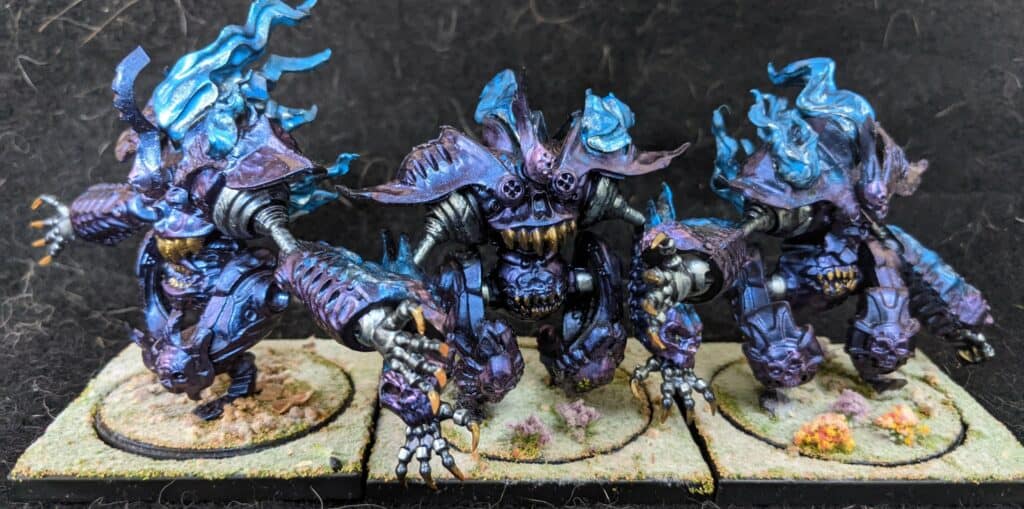 Honestly, this unit is one of the main reasons I picked Dweghom for my Path of Conquest army. Pseudo daemon possesed Light Cavalry equivalent running around on fire? How could I pass that up. Their speed more importantly allows me to put my opponent on the backfoot from the very beginning of the match. That high speed also makes them very flexible by making them excellent flankers assuming they survive by the time battlelines clash.
In addition to getting everyone painted up, the Dweghom of Grel'Hof actually took to the battlefield this month! Both in a demo game between two newer players and against Karnthis' Nords the Dweghom emerged bloody but victorious.
Now by the end of July I aim to finish Milestone 3 which would have been the 12 Dragonslayers and 12 Fireforged bringing some much needed anti-armor assets to the army.
=== The Last Argument of Kings ===
Dweghom – 1185/1200
Grel'hof
Hold Raegh [80]: Select as Warlord
– Dragonslayers (3) [255]: Standard Bearer
– Hold Warriors (4) [180]: Standard Bearer
Tempered Sorcerer [95]: Fireball
– Hold Ballistae (3) [150]
– Inferno Automata (3) [200]
– Fireforged (3) [225]: Leader
Characters: 2
Light Regiments: 2
Medium Regiments: 2
Heavy Regiments: 1